Thought I'd capture your attention with one of the hottest local, up-and-coming competitors from Hawaii. Big Aloha to Steve Preza who managed to judge the event and guest pose for the evening show, even though he's preparing for the USA competition which is about a month from now. Steve has put on a lot of size, has good separation and incredible symmetry. Best of luck to Steve at the USA!
On Saturday, June 27, 2009, Hawaiian Islands Bodybuilding & Figure Championships were held at the Neal Blaisdell Concert Hall and, best of all, the legend who started the whole thing was present—Mits Kawashima. Had to get a hug and picture!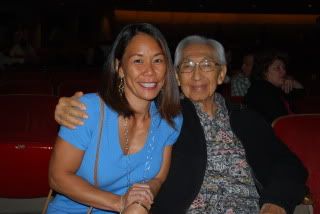 It was a great show and probably one of the most competitive contests I've judged in several years.  This is a National qualifier and promoters are sponsoring the airfare for the overall Men's Open and Women's Figure and Bikini winners to advance to Nationals. Maybe that's why so many looked well-prepared and ready for battle.
There weren't a lot of Bikini contestants but I'm sure next year will draw even more—especially as a national qualifier with round-trip airfare to Nationals being paid for! Here's the short class and overall Bikini winner (Toby Tokunaga) and the 2nd place short class finisher (Jacqueline Geringer, bottom left) who I recall from a previous contest. I wanted to recognize her for the improvement shown. The last photo is the tall class winner (Amelia Delgadillo).
The Figure contest was more competitive with 11 contestants vying for the prize-winning title. The short class dominated the Figure contest as well with Lori Brooks (top left) taking her class and the overall title pictured on the left below. She was in top form and looks ready for the USA. The medium and tall class winners (Sarah Shea and Tanya Castro, respectively) are also shown. Sarah was cut and nicely muscled (on right). Tanya is a beautiful girl and just needs more time and training to increase her muscle-tone--gorgeous though (bottom photo).
On to the men… the men's Junior, Master's and Open divisions were all tough. Only the Open overall winner receives the roundtrip airfare to Nationals (USA).
Here's the Junior division winner's line-up from lightweight through heavyweight respectively. Pictured below: Gil Guilang-light (top left), Adam Kuwasaki-middle (top right), David Baptista-lightheavy (bottom left), and Shane Lyman-heavy (bottom right). Baptista took the overall title and was the hands-down choice with nice musculature along with terrific definition. The future looks bright if he continues to add more size. Great job!
The Master's division was quite a show with a couple of gentlemen who were well beyond the 40-year cut-off and were in great shape for their age. Major props to them! Here's the lightweight class where these gentlemen strut their stuff. The lightweight winner (Joe Yezzi, top left) had a very nice physique and was well-defined. 2nd was Jerry Synder (top right), 3rd was Frank Clanton (bottom photo). Examples of being strong, living long and looking good!
Here's the middleweight winner (Kenneth Baum, left) and 2nd place finisher (Jason Roberts, right) who had better symmetry but just needed to come in harder.
The overall title went to the handsome heavyweight with beautiful symmetry and nice overall musculature (Miguel Diaz).
You could see that the Open Men's division invited the big boys. There were five weight classes: light, middle, light-heavy, heavy and super-heavy. A couple classes were challenging to judge as we got down to knit-picking body parts and proportions. Sometimes the winners were obvious; other times there could be a one point difference between 1st and 2nd. That's competition!
The lightweight division could have gone either way. The winner (Marcus Allen, left) had good muscle but definitely needed help in presenting himself. The "old-timer" (Chauncey Murakami, right) was as polished as ever.
The middleweight division went to the proportionately bigger and harder competitor (Jerry Calvin).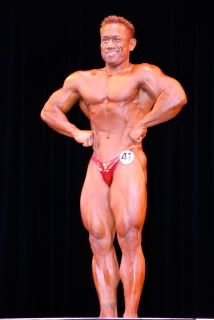 Hats off to everyone in the light-heavy weight class! I know we really made you work for your money that day, with comparison after comparison. This was the most competitive division of the whole show and they all looked really good. Congrats to Tryson Shigemoto (left) the winner! I wanted to also recognize the second place finisher (Nos Racoma, right) in this class who was in incredible shape and neck and neck with Shigemoto. Even the 3rd and 4th place finishers had really nice physiques.
Not to take away anything from the other heavyweight competitors, who train hard and were in good shape, but the winner of the heavyweight division (Kevin Sperling) was a cut above everyone else in the entire show. Not surprisingly, he too is preparing for the USA contest in about a month and is also a prior winner of the Hawaiian Islands show.
The super heavyweight (Ernest Chang) was by himself and was entertaining though much too soft.
As always, good to see guest poser Brandon Curry who won the USA in 2008. He and his beautiful wife Brandy (2008 Flex Magazine Bikini Model Winner) were in attendance and lookin' fine.
My final two comments:
¨For observers who sometimes question the outcome, remember that except for the overall title, all judging takes place in the morning. It is absolutely possible for contestants to look markedly different in the morning and evening shows.
¨This message goes out to bodybuilding competitors (excluding many of the "old timers" who still got it)… you need to practice presenting yourself better. I have judged numerous contests over the many years and I see a recurring theme these days. You obviously train really hard to build your body but lose so much leverage because you don't know how to and haven't prepared sufficiently to present your hard-earned physique. This bothers me to no end because I know the effort that goes into the sport and I definitely consider bodybuilding one of the toughest sports to compete in. It doesn't matter how hard you train, how much muscle you have and how cut you are if you can't show it on that one day. And pre-judging is the time to turn it on. The night show is just that—a show. Many of you could do much better if you just spend some time on standing and flexing properly, holding poses, positioning, and knowing and presenting your strengths.
All in all, it was probably one of the better contests I've judged, particularly with the quality of the men's competition. Great job to all the men and women! Thank you for training hard and representing your gym and families well—however you placed. Good luck to all of those going to the USA representing Hawaii!!!
And a BIG MAHALO to promoters Ricky Suzuki, Kim Lyons and Gunter Schlierkamp for keeping Mits Kawashima's legacy going and helping the sport thrive in Hawaii.
MAHALO to Ron Nishihara for the awesome photographs!
*** Thank you to all of you who have completed the general health survey. For those who haven't, I invite you to participate. Please visit my website www.lifefitnet.com. It is a short 12-question online survey that should take only 2-3 minutes to complete. Mahalo for your support! 🙂 Lori