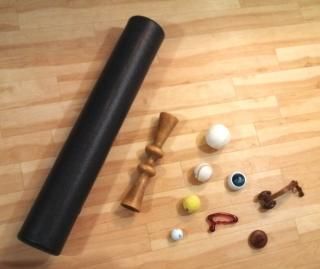 We can't all get to a professional massage therapist when needed, but self-massage is a great way to get immediate relief and also helps you to gain a better feel and understanding of your body.
Self-massage works well on those nagging tight muscles, cramps and aches that result from training hard. Be careful not to massage a recent injury or over massage an area. Doing so could aggravate the injury, cause increased swelling, bruising and actually prolong healing.
Massage legs
Leg masssages are wonderful after a long day on your feet or after a good leg workout. Use the base of your palms or your thumbs and fingers and run them down your thigh, from hip to knee. Lying on a foam roller and rolling over the back, front and sides of your upper and lower legs can be a little painful but, "oh so good!"
Massage feet
Any size ball can really come in handy. You can even run your fingers over the top of your feet and ankles. This is another end-of-day routine that offers much relief.
A foam roller, Ma roller or even medium-sized balls work well to massage the upper and lower back. Gentle hand massages and stretching also provide great comfort for the neck and shoulders. Ahhhh!
Massage arms and hands
There are great hand massagers (perhaps a golf ball) or just your own thumbs and fingers are handy hand and arm massage tools. Rub the muscles of the upper arm and forearms. End with a hand massage of the meaty portion of the palms, squeeze the palms and each finger all the way to the tips. After being on a computer all day or a long weekend of yardwork, arm and hand massages are so soothing!
Self-massage does more than feel good. It can also aid in healing, increase circulation and provide relief. Enjoy!
*** I invite you to visit my website www.lifefitnet.com and participate in a short online survey that should take only 2-3 minutes to complete. No one's personal, individual data is ever shared and the aggregated information is used to Build a Healthy Hawaii and better understand individual needs and preferences related to establishing healthy lifestyle habits. Mahalo for your support! 🙂 Lori