Eat by Color
September 2nd, 2013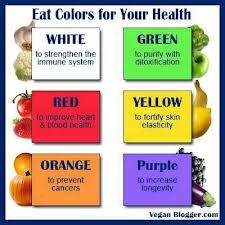 Some sage advice came from my faithful nutrition guru....eat by color. Have vibrant, colorful meals and get a balance of nutrients. This quick tip has made meal assembly and the journey to more nutritious meals a lot easier and fun. It's a method that has been easy to implement with the children and lets us escape studying foods to death and over-analyzing our eating.
We take in various phytochemicals which protect us when we eat fruits and vegetables. These work to boost our immune system and the colors are a fascinating way that nature goes about highlighting these beneficial nutrients--give them bright, attractive colors.
Choose foods that represent the colors of the rainbow. The USDA suggests paying particular attention to orange and red (5 1/2 cups per week) and dark green (1 1/2 cups per week) produce, both good sources of vitamin A and other important nutrients.
I simplify it by making certain that I get at least 4 colors per meal, have a fair amount of each color (meaning that parsley or green onion sprinkles as a garnish don't count), and a mix of these 6 color groups. See a few examples below:
Red
· peppers
· tomatoes
· watermelon
· guava
· pink grapefruit
· raspberries
· strawberries
· cherries
· beets
· apple
Green
· kale
· spinach
· lettuce
· broccoli
· celery
· boy choy
· chard
· mustard greens
· green beans
· arugula
· apple
· kiwi
· lime
Orange
· orange/tangerine
· pepper
· mango
· papaya
· cantaloupe
· pumpkin
· apricot
· sweet potato
· squash
· nectarine
· persimmon
Yellow
· banana
· squash
· corn
· pepper
· lemon
· pineapple
· apple
White
· garlic
· onion
· cauliflower
· cabbage
· corn
· turnip
· mushroom
· potato
Purple/blue
· blackberry
· blueberry
· eggplant
· grapes
· plum
Eat the colors of the rainbow and be well. Do this...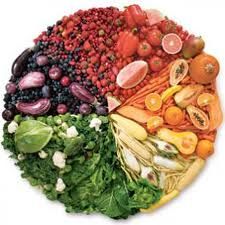 Don't do this....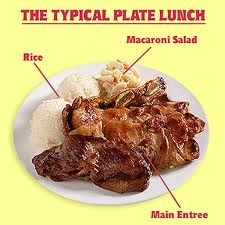 *** I invite you to visit my website www.lifefitnet.com and participate in a short online survey that should take only 2-3 minutes to complete. No one's personal, individual data is ever shared and the aggregated information is used to Build a Healthy Hawaii and better understand individual needs and preferences related to establishing healthy lifestyle habits. Mahalo for your support! 🙂 Lori