Most Visited Businesses
June 29th, 2013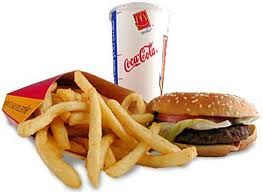 I was hoping that we consumers have been changing for the better but maybe we are going to have to keep working on it. Still today, McDonald's is the most visited business overall (statistics from April 2013). The survey by Placed Insights, which measures over 70 million business locations per day, shows that America remains a fast food nation.
This was evident in the top 10 ranking where 6 out of 10 of the most visited U.S. businesses in April 2013 were quick service food chains...McDonald's (#1), Subway (#2), Starbucks (#4), Burger King (#5), Wendy's (#6) and Taco Bell (#9). Check out the rankings below: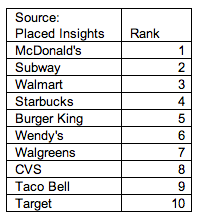 Sadly, although Subway has nearly 10,000 more U.S. locations than McDonald's, only about 2 out of 5 Americans visited Subway in April. More than half of all Americans visited McDonald's in the same timeframe.
I can understand Walmart, Walgreens, CVS and Target being on the top visited businesses list for our day-to-day household needs, toiletries and general dry goods. However, I wouldn't be surprised if the high ranking is also the result of our increase in drug usage as well.
At any rate, I'd still like to see our eating habits change for the better. Am I the only one that thinks something is wrong with the above picture? I haven't been to McDonald's in a long time but apparently there are others who have been making up for my absence. This is not an anti-McDonald's message. The movie "Super Size Me" did a good job of that. I had hoped that we were further along in our healthy-eating movement. Evidently we still have to keep plugging away. At this time, it is just food for thought...so to speak.
Live well. Eat well.
http://www.huffingtonpost.com. Posted: 05/29/2013 1:38 pm EDT
*** I invite you to visit my website www.lifefitnet.com and participate in a short online survey that should take only 2-3 minutes to complete. No one's personal, individual data is ever shared and the aggregated information is used to Build a Healthy Hawaii and better understand individual needs and preferences related to establishing healthy lifestyle habits. Mahalo for your support! 🙂 Lori