Hanauma Hike
June 11th, 2013
I can't believe that I've lived here my whole life and have never hiked the Hanauma trail.
It was very easy and convenient to get to, there were no parking issues and (on this occasion) no crowds of people to share the trail with. My only warning would be to make sure you put sunscreen on before you head out and bring lots of water. Unlike the other mountain trails in the area, there aren't shade trees whatsoever along the way.
Right off Kalanianaole Highway headed eastbound toward Hanauma Bay, pass Koko Marina and the residential area on the right, you will see this sign and to the right is the shortcut to the ridgeline trail.
After a few dozen yards upward you will quickly notice the fantastic view of Hawaii Kai and Hanauma Bay--a vantage point that you wouldn't otherwise get to enjoy. And it didn't take much work to get their either.
We chose to head down the first trail to the left which overlooked the right side of the bay. It was a little scary scaling down the dry graveled dirt path while seeing nothing but cliff and ocean below, but we made it slowly and surely. At least we knew where we were headed. The path was clear.
There is an almost eerie crater containing a graveyard of dried keawe to the right of the path. Signage indicated ancient Hawaiian significance so we happily circled the crater instead. Our reward was a view never had. At the south-eastern tip of Oahu, the bay looked gorgeous and the ocean view quickly served to de-stress.
Rounding the southern edge to head up the opposite side ridge, we found another path to water's edge. We stumbled upon fishermen's 'not-so-secret' spot, reminding us of Bamboo Ridge, which always leaves me in wonder about how the heck they found such a location, toted supplies and materials there, and were able to construct these structures. Amazing.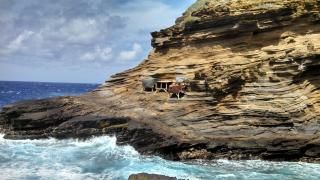 Here were some of the sites along the way that I had to share. It had a desert look and feel, but beautiful nonetheless.
Don't forget the sunscreen and water!