Scare of a Lifetime
May 26th, 2013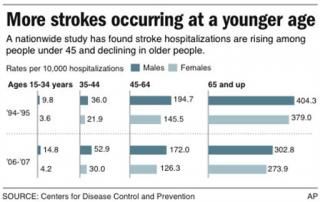 I was floored recently by the news that one of my dearest friends had a mild stroke. She and I go back to elementary school together and have been there through each other's trials and tribulations over the decades.
You might be wondering....Did she smoke? Did she drink excessively? Did she have other health issues? Was she on medication? Was she diabetic? Did she otherwise lead a high risk lifestyle? Sure, she may have had a few concerns over the years but nothing that would place her in the high risk category. She is a bit overweight but has lost quite a lot over the past year and has gotten a lot more active.
She just turned 50 this year! She's too young and I'm still in disbelief.
I wasn't as surprised when my brother had a stroke at the age of 40 because he had high blood pressure since high school, drank excessively, smoked, ate fried food plate lunches daily, and consumed a lot of red meat. Accordingly, he was obese (over 300 lbs.) and probably never did cardio in his adult life. Not to be mean but his stroke wasn't a total shock friends and family.
Fortunately, my girlfriend seems to have survived the stroke with only her speech affected but it drew me to tears thinking about her, the family and what could have happened.
At any rate, the message here is to urge all of you NOT to wait until a scare forces you to pay attention to your health. Continue making the positive dietary changes. Keep exercising and have your regular health checks. But don't forget the mental/psychological effects that are not so obvious. To this, I'm speaking of being happy or content with yourself, your relationships, and managing stress.
I believe in my girlfriends case, this presented an even greater problem than her weight. For many others as well, I hear similar stories about work and their personal lives being particularly burdensome for extended periods of time--eating at them from the inside-out.
My warning to all is to take care of all dimensions of health. Neglecting any one area could put you at risk. Eat well. Exercise. Manage your mental wellness. Attend to your health care needs. And do so before you are forced to make it a priority.
Of course, prevention is best. But if you experience any of the following signs, have someone call 9-1-1 immediately: sudden vision problems, numbness or weakness of one side of your face, arm or leg, slurred speech, dizziness, intense headache, trouble balancing/walking, and particularly a combination of these. Don't be like my brother and drive home to lie down first!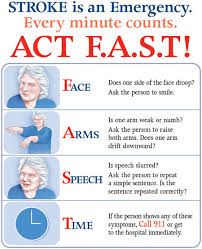 *** I invite you to visit my website www.lifefitnet.com and participate in a short online survey that should take only 2-3 minutes to complete. No one's personal, individual data is ever shared and the aggregated information is used to Build a Healthy Hawaii and better understand individual needs and preferences related to establishing healthy lifestyle habits. Mahalo for your support! 🙂 Lori