VitaSpray
May 19th, 2013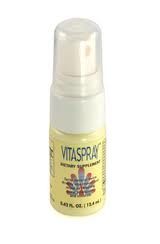 I've discovered a vitamin spray that works wonders!
It is a mouth spray that allows the vitamins to be absorbed into the body quickly under the tongue. It has a citrusy-mint flavor, has no sugar added and is really refreshing!
It contains the following:
•
And various herbs and flavorings
It has proven useful for fatigue, stress, memory loss and concentration, depression, irritability, insomnia, weakness and tiredness, cramping and muscle spasms, edema, restless leg syndrome, colds/illness, anemia, PMS, morning sickness, etc. I may not be able to personally attest to its effectiveness for morning sickness (ha, ha), but I will say that it has provided notable results for fatigue, stress, irritability, weakness and tiredness, cramping and muscle spasms.
Basically, it has positive effects for the nervous, metabolic, digestive and circulatory systems, particularly given the vitamin deficiencies that many of us live with because of our high processed food diet and high stress levels.
While nothing replaces a nutritious balanced diet, optimum rest, stress management, emotional and social satisfaction,  and exercise, there are aids like this vitamin spray which offer quick relief to give you the boost needed. VitaSpray by Sunrider has shown to be a great find!
*** I invite you to visit my website www.lifefitnet.com and participate in a short online survey that should take only 2-3 minutes to complete. No one's personal, individual data is ever shared and the aggregated information is used to Build a Healthy Hawaii and better understand individual needs and preferences related to establishing healthy lifestyle habits. Mahalo for your support! 🙂 Lori