Cheers to Moms!
May 12th, 2013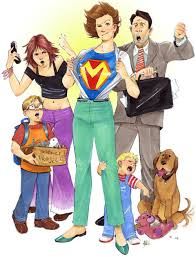 A well-deserved day to honor mothers.
I have rarely spoken of my mother all these years but as she is aging and declining in her faculties, I think more about all she did for the family and what influence she had on me.
In our family, she was the go-getter, the over-achiever if you will. The uneducated woman who managed to run her own business successfully, who at middle-age started a whole new career teaching. She was a tenacious instructor who truly cared about her students and devoted herself wholly to their education. Passing on her wisdom and work-ethic was what drove her to work year-after-year, never calling in sick.
She was the original 'Super Woman." Everything she did was at the highest level. And there was nothing that she couldn't do, if she set her mind to it. She worked full-time, provided a comfortable living for the family, shopped, cooked, cleaned, entertained friends and family, and never complained.
She has been the example I live by and her repeated message is one that I too convey to my children. "You can achieve anything you set your mind to if you want it bad enough." She is a model of hard work, a solid work ethic and determination.
While it saddens me that she is not the same feisty women of her earlier years, I also feel that the torch has been graciously handed down to me as I now set the example for my children.
To all the Super Moms out there who miraculously do so much for their families, often being the glue that keeps things together and the oil that keeps the engine running smoothly, "Cheers!" To all the Iron Moms who have lead their families through tragedy and financial hardship, "Stay Strong." To all the Dads who have accepted the role as Mom and Dad in raising children, "U da Bomb!"
To all in their motherly roles...Thank you for your guidance, your example, your efforts. You have more power and influence than you may realize.
HAPPY MOTHER'S DAY!!!