Using a Weight Belt
March 23rd, 2013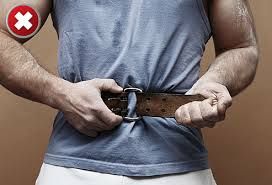 Let's talk about the use of a weight belt because I've heard all sorts of reasons for and against them.
They come in a variety of materials, colors, thicknesses, and widths to suit a variety of needs. They are not only for serious heavy weight lifters, but are also useful for those performing repetitive movements or those who just need a little added back support.
Contrary to what many think, you are not relying on the belt itself to hold you upright. The belt helps you engage your core (including back and various abdominal muscles) which hold you upright. Picture your skeleton. Core muscles are what offer support to the spine, between your ribcage and pelvis. That's what makes your body a strong, solid cylinder.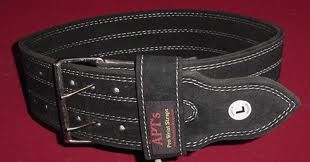 Does material and type matter? Somewhat. Thicker leather belts are more rigid, typically worn by heavy lifters. Wider belts may be more comfortable for tall or big-bodied individuals. The nylon or fabric belts are usually more comfortable and offer adequate support for moderate lifting and routine movements.
As for fit, it should be tight enough to allow you to firmly flex your core against but not so tight that it impairs flexion, breathing or movement in the exercise.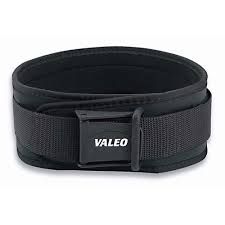 Though I usually try to go as far as I can without a belt, I would recommend belt use to anyone who has difficulty engaging their core in exercises and activities. For upper or lower body training, a weight belt can be a friendly reminder to flex your core muscles and reduce risk of injury.
*** I invite you to visit my website www.lifefitnet.com and participate in a short online survey that should take only 2-3 minutes to complete. No one's personal, individual data is ever shared and the aggregated information is used to Build a Healthy Hawaii and better understand individual needs and preferences related to establishing healthy lifestyle habits. Mahalo for your support!
Lori