Control Freak
February 19th, 2013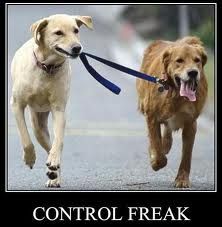 Yes. It's all about control.
I'm sure you'll agree that you can't always control the outcome. However, you often have control over factors that affect the outcome. This applies to practically everything, whether you are talking about getting a job or improving your physical condition.
So where your health and fitness are concerned: start controlling your consumption by planning and preparing; better control your results through movement control in physical activities; and control your recovery by managing your care. You may just be surprised at the difference in outcomes that you are able to attain.
Controlling your diet goes well beyond willpower:
Identify the 'good for you foods' that you actually like. Make a list of your healthy proteins, carbs, produce, snacks and beverages and keep it handy.
Meal plan rather than leaving good eating to chance. Meal planning can just be a matter of mixing and matching the items in #1 to keep it interesting.
Stock up. Make sure you shop and keep these good food on hand because you will 'eat what you keep.' If junk foods are handy, you'll probably eat them. Many will choose healthy food IF they are available.
Prepare good food ahead of time. Take good snacks and water wherever you go. For me, having prepared fresh veggies handy made dinner side-dishes, veggie omelets and more nutritious lunches very easy. You all know that my slow cooker is one of my favorite kitchen tools, providing me tender, yummy dishes without a huge time investment.
Controlling your movements produce better results:
This has been my secret to getting the most out of my resistance training. I've tortured grown men with massive arms on mere 20 lb. curls. Use control in full-range movements and get maximum results.
Even in cardio activities, whether it's rhythmic breathing or posture control, it can make a huge difference in outcomes.
If you are stretching and performing flexibility moves, control again is key. You don't want to carelessly force such movements.
Believe it or not, even explosive moves in training require controlled power to avoid injury.
Controlling recovery can improve overall well-being:
You may have to make time to rest sufficiently rather than waiting for a break in your busy schedule... because it may never come.
Often, frustration and stress result from allowing yourself to be at the mercy of everyone else's priorities and choices. At some point, you may need to take some control back to keep your sanity.
See your health care professional so that you know where you stand. Do not self-diagnose or live through extended periods of discomfort or questionable symptoms. Be in the 'know' so you can have control of your care.
Get off your butt and do something. Don't lay around wondering why good things don't come to you. Get out and make it happen! Whether we are talking about a new body, a new job or a new relationship. It won't happen by itself. Control your destiny.
You can't control everything around you but you can control YOU!
*** I invite you to visit my website www.lifefitnet.com and participate in a short online survey that should take only 2-3 minutes to complete. No one's personal, individual data is ever shared and the aggregated information is used to Build a Healthy Hawaii and better understand individual needs and preferences related to establishing healthy lifestyle habits. Mahalo for your support! 🙂 Lori