My 12-Week Program - Done!
January 27th, 2013
Here are my results and reflections of my 12-week diet and training program....
First, what the heck was I thinking starting this diet and training program at the beginning of November??? As usual, I take the most challenging way to go. I clearly stated from the get-go that I was planning on cheating on the 3 holidays. I did 'cheat' but didn't go too far overboard. It didn't seem to matter much.
I lost 7 lbs. -- which is all I wanted to lose. I prefer not to get below 105 pounds because I start to look too skinny. My challenge was to hold my weight and put on more muscle. I dropped about 3.5% bodyfat which is several points less than I ultimately wanted but I'm certain it's because I just couldn't work in as much training time as I would have liked--and far from what I used to do in my competitive days. Unfortunately, my life can't revolve around workouts these days between work, kids, business and the house, so I did what I could and didn't stress about it.
The first 3 weeks were easy to stay motivated. My weight dropped and I focused on getting enough lean protein and reducing my carbs, but still had my good fats. At this point, I still ate nuts and a fair amount of whole grain complex carbs. I enjoyed the strict diet and could see the results in my body week-by-week. Even the kids joined in, asking for foods that had less fat overall and whether it was good or bad fats.
By the time I was 4-6 weeks into it, I really began craving carbs. I slowly dropped my carbs because I wasn't able to get in enough cardio. Other than breakfast, my lunch, dinner and snacks were mostly protein and veggies. My training went well and, as usual, my upper body responded quickly.
After 6 weeks, I realized that my upper body was pulling too far ahead of my lower body, so I had increased legs and cut my upper body training in half. This helped but the bottomline is that I just don't have enough weights at home for heavy leg training. I made due.
In the last several weeks (after enjoying myself on Christmas and New Years) I clamped down with lower fat foods and I could see better definition each week.
All things considered,  it was worth the effort. I'm happy getting back in shape and  since my kids have gotten used to some of the changes, we will stick with them to keep calories and fat down. I.e. We've switched out turkey and chicken for beef, eat more fish, always keep veggies in stock, and often pass on the extra carbs like bread, rice, pasta and potatoes.
Here are some pics. Sorry if the quality isn't there but they were just taken at home. I decided to use black and white to show better contrast since I had no time to tan. At any rate, I'm a LOT smaller than 27 years ago in my competitive days, but my arms aren't too bad (considering I haven't done a single bicep curl  or tricep isolation exercise), my abs are pretty solid even after three kids, my lats are okay thanks to pullups, but I don't quite have enough thickness without getting in those heavy lifts, rows/pulls and benching. As a whole though, I'm satisfied. I could be much worse for pushing 50.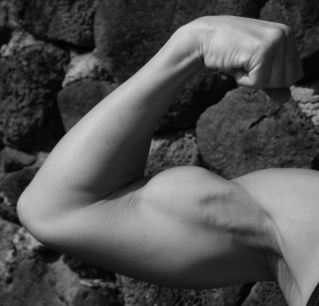 This helped me realize how far I am from being competitive again. It requires so much more time and dedication than I can rightfully give and I'd never do it halfway. So to answer the many who have inquired....No, I am NOT competing.
For now...I will resume a healthy diet but allow myself the social cheating and weekend treats. And my training will go back to intervals 4 times a week and get in more cardio.
Hats off to the competitive bodybuilders and physique contestants. I know the time and discipline required and, with all other life priorities, see the sacrifices that need to be made, holding training and diet as top priority for months on end. Awesome!
*** I invite you to visit my website www.lifefitnet.com and participate in a short online survey that should take only 2-3 minutes to complete. No one's personal, individual data is ever shared and the aggregated information is used to Build a Healthy Hawaii and better understand individual needs and preferences related to establishing healthy lifestyle habits. Mahalo for your support! 🙂 Lori