Where is Everyone?
January 21st, 2013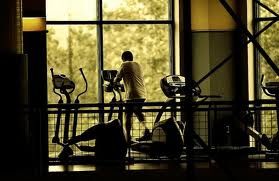 I drive past the Kapiolani 24 Hour Fitness practically every day and I was honestly impressed by the number of people filling up the cardio room during the first week of January. Most of the treadmills, steppers, climbers and elliptical machines were busy at use.
Sadly, by the third week of January, attendance appeared to have dropped to only a third of what it was during the first week. That was fast! Where'd everyone go?
While I appreciate the enthusiasm of those New Year's 'Resolutionaries' (ha, ha) trying to make some grand improvement in 2013, getting those sneakers on and heading to the gym, I'd rather see people choose a change that can last longer than two weeks even it is seems small.
How about controlling those overly ambitious impulses and selecting something really practical that moves you in the right direction, one step at a time? Start with small wins, especially if you've had a past pattern of yo-yo weight loss and inconsistency.
Here are a handful of first step ideas. Do not feel compelled to tackle these all at once. Think of acquiring healthy habits as a progression. It's like the education process. We don't take someone from counting on their fingers then jump them to calculus, right? It's a slow but steady progression through more complex and challenging tasks. The same thing applies here. Get that low hanging fruit before you go for the nearly impossible gorgeous one at the top of the tree on the furthest limb.
Eat breakfast (since so many skip breakfast, this alone is significant)
Switch to a healthier breakfast (change to whole grain, switch to fat-free, switch to soy milk, etc.)
Snack on fruit instead of candy or pastries
Mix your white rice with brown rice (1/4 at a time is a good start)
Switch your ground beef to ground chicken or turkey
Do a meatless dinner once a week
Take the stairs
Walk the dog
Drink an extra glass of water a day
Sleep 30 minutes earlier
Take a 5-minute walk during your break
Start the morning with a few minutes of stretching
Cut out 1 soda per day
Cut down from daily coffee to alternating days
Include one vegetable or fruit per meal
There are hundreds, if not thousands ,of things that you could do to move further down the healthy lifestyle path for you and your family. It doesn't have to be tackled as a 'jump in the deep end' type of change but perhaps more like touching the water with your toes....wading in the shallows...going a little deeper as you warm up and gain more confidence...getting your head wet....learning the strokes in shallow water...then venture into the deep.
If anyone is wondering...yes, this is how our family transitioned to much healthier choices today than they'd ever allow even five years ago. My kids will actually ask which food has less fat, they will tell me not to add butter, they often skip rice and just eat vegetables with dinner, and have completely adapted to all brown rice. This is not to say that we won't have a white rice musubi from time-to-time. But as a whole, their daily choices are definitely better than a few years back.
Start today but make it something you can stick with.
*** I invite you to visit my website www.lifefitnet.com and participate in a short online survey that should take only 2-3 minutes to complete. No one's personal, individual data is ever shared and the aggregated information is used to Build a Healthy Hawaii and better understand individual needs and preferences related to establishing healthy lifestyle habits. Mahalo for your support! 🙂 Lori