Potluck Picks
December 30th, 2012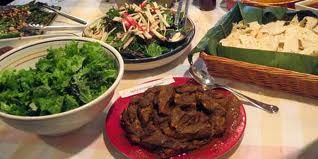 Going through Thanksgiving and Christmas, I realized that it wasn't as difficult as I had thought it would be to eat pretty well. I've given numerous tips over the years like these—to name a few:
Drink water and stay hydrated
Eat well before and after the party or potluck. I.e. I had my typical whole grain cereal and soy milk breakfast since we got together for lunch
Scan the buffet first to make wise choices, rather than just loading as you go
Eat good first, meaning select the healthier options before the not-to-healthy delectables
Having survived two of the big holiday feasts with weight and bodyfat intact, here's how I did it:
Ate my normal healthy breakfast
Drank water before going to the lunchtime gathering and during the meal
Talk story and socialize--preferably not while standing at the buffet. (My brother was a riot at our gathering, asking questions to my brother in-law, his wife and my kids. He doesn't know anything about computers and other popular technology so it was hilarious listening to his questions and watching the perplexed looks on everyone's faces as they tried to explain how the technology works and decipher his questions. It was 'bend over, drop-to-the-floor, roll-on-your-back' funny!)
Skip the rice and noodles. I figured they were fillers so I passed
Tried the steamed crab legs, without butter
Had a few pieces of the steak, because my brother is a master at grilling meat
Took some salad with a little vinaigrette dressing
Had a couple pieces of sweet-sour spare ribs, since it's a specialty of my sister-in-law
Had an ear of fresh corn, again with no butter
The worst thing I had was what I made (a special request of my brother)-- fried Hanamaulu chicken
I was satisfied already so I skipped the ice cream and custard pie dessert
If there was fresh fruit, I probably would have had it. Sounds like something worth bringing to the next potluck….
Of course, portion is another important consideration. I took just 1-3 pieces of each which left me feeling good and not overstuffed. Remember, you can always go back for more. It's best lot to load up from the beginning, then feeling like you have to finish your plate.
I enjoyed the food and still felt great afterward. It may not be as difficult as you've imagined to eat well at your family gathering. Choose wisely….think quality not quantity....and grab tasting portions first.
And don't forget your workout! One more big celebration to get through!
*** I invite you to visit my website www.lifefitnet.com and participate in a short online survey that should take only 2-3 minutes to complete. No one's personal, individual data is ever shared and the aggregated information is used to Build a Healthy Hawaii and better understand individual needs and preferences related to establishing healthy lifestyle habits. Mahalo for your support! 🙂 Lori