Giving Thanks!
November 22nd, 2012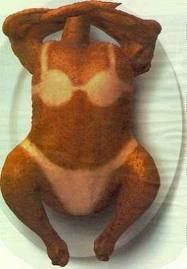 Here is wishing everyone a Happy Thanksgiving!
Even if things in your life may not be ideal, I'm sure you can still find things to be thankful for. For me, I have great parents, fantastic children, adorable dogs and wonderful friends. And while other parts of my life leave a lot to be desired, at least I have these.
And let me take a moment to also offer a few reminders for enjoying your holiday feast without overstuffing yourself like that plump turkey!
Stick to your exercise schedule or find a way to schedule in your workout. Many (except retail these days) are typically off of work today. Juggle the workout schedule to at least get in a quick one.
If your gathering is for lunch, make sure you have a regular nutritious breakfast, rather than skipping breakfast thinking that you'll overeat at lunchtime. Chances are, if you do skip breakfast, you WILL be compelled to overdo a good thing at lunchtime. Don't set yourself up that way.
The same applies if you have Thanksgiving dinner planned. Eat a good breakfast and lunch. Then you can probably enjoy a great dinner without feeling like you've thrown the nutritious diet out the door.
At the party, remember to pick good first. Start loading your plate with your protein and veggies, then go to your 'gotta have' favorite.
Make sure you stay hydrated—preferably with water. Sweet beverages just add calories and may trigger your appetite.
Don't overfill your plate. You can always go back for more if you're still hungry. You may find yourself satisfied the first go around and piling your plate up just forces you to finish it.
Lastly, enjoy the company. It's not just about the food. Take your time. Talk story. Catch up with friends and family. Slowing down may help you eat less and best of all you'll reconnect with loved ones.
Again, here's wishing you a very HAPPY THANKSGIVING!!!
*** I invite you to visit my website www.lifefitnet.com and participate in a short online survey that should take only 2-3 minutes to complete. No one's personal, individual data is ever shared and the aggregated information is used to Build a Healthy Hawaii and better understand individual needs and preferences related to establishing healthy lifestyle habits. Mahalo for your support! 🙂 Lori