A Balanced Life
November 4th, 2012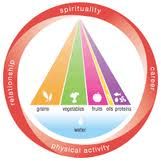 Somehow recently, the need for Balance keeps coming up again and again in conversations about all aspects of health and life in general.
…A father of a very bright and well-rounded child discusses the approach that he and his wife have to child-rearing, which ends up being about balance. They thoughtfully balance academics with the arts, with athletics, with simply play, with family, etc.
…A senior citizen 10-years recovered from a heart attack discusses the importance of a balanced diet and exercise.
…A young wellness advocate discusses pH balance and the need to eat the right balance of acid and alkaline foods.
…A parent feeling the burden of supporting the family, dedicates herself to her job in order to progress, but it takes its toll on her family relationships and she eventually realizes that there is a need for balancing such life priorities.
I'm sure you have had similar experiences and discussions. Balancing aspects of your life may not always be as easy as it seems. It requires an awareness of self and your situation, knowledge of what important factors need to be considered, and a plan for how to manage all this.
In this competitive world that we live in, it's reasonable instead for us to believe that succeeding requires total focus and while balancing our skill-set sounds great, we are haunted by thoughts of failing because we haven't dedicated enough to our singular mission. Saying's like, "Jack of all trades and master of none," keep running through our minds.
There is room for both. Moreover, your long-term success could be limited if you put all your eggs into one basket—or, put another way, if you are too far off-balanced. Keep focused on the greatest good, not just on a narrow area of strength. I.e. I may not be advantageous to have super strong legs, if your back and upper body can't keep pace. You also may not want to focus on getting a lot of a particular nutrient, but rather, ensure that your body receives the appropriate balance of nutrients in order to maintain health.
All in all….seek balance…employ moderation…achieve the greatest good.
*** I invite you to visit my website www.lifefitnet.com and participate in a short online survey that should take only 2-3 minutes to complete. No one's personal, individual data is ever shared and the aggregated information is used to Build a Healthy Hawaii and better understand individual needs and preferences related to establishing healthy lifestyle habits. Mahalo for your support! 🙂 Lori