This might sound a little like venting but here goes…
What has happened to the old work ethic, where one held dearly the desire to earn their keep?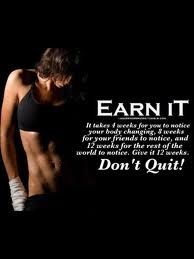 Is competition too great? Are we just too impatient? Are we all too lazy?
While I am all for medical advancement and am ever so intrigued by the use of technology to help increase awareness about the human body, I am still of the mindset that you cannot short-cut health and fitness.
This is not to say that gastric bypass is wrong or that steroids don't work. The point is, regardless of what aids and assistance you employ, achieving and maintaining good health and being fit will still require eating well, exercise and a degree of commitment.
Despite having surgery to lose weight, you cannot get fit through surgery alone.
Despite drugs that help you gain muscle, results are limited without exercise, dietary change and consistency over time.
Regardless of having the fanciest and most expensive equipment available, you can't achieve improved cardio-respiratory conditioning without actually using it, doing so regularly, and with a fair amount of consistency and intensity.
I still find myself disappointed to hear of the thousands and thousands who continually seek quick fixes and short-cuts.
The bottom line is that, regardless of genetic advantages or disadvantages, achieving health and fitness takes effort. Rejoice in the results earned and the progression made from week to week and month to month. Most of all, just take pride in the effort and discipline you demonstrate. This is where the value is. It's not served to you on a silver platter. It's not handed down from your parents or given by a dear friend. And you don't buy it. It is earned.
Now stop whining and get to work. lol.
*** I invite you to visit my website www.lifefitnet.com and participate in a short online survey that should take only 2-3 minutes to complete. No one's personal, individual data is ever shared and the aggregated information is used to Build a Healthy Hawaii and better understand individual needs and preferences related to establishing healthy lifestyle habits. Mahalo for your support!
Lori