It seems that I rarely venture in Waikiki anymore. (Boy, I'm sounding more and more like my.)
Anyway, being that, we thought it would be a treat to trek it through Waikiki and play tourist a bit, We were out for the exercise so we didn't spend much time shopping, but simply took this as an opportunity to see what's changed. And that it has!
We began at Ala Moana Center and headed toward Kalakaua at the entrance of Waikiki. Wailana Coffee House is surprisingly still there but across the street looks mighty different. The Hilton has yet another tower and they've done a fantastic job incorporating the lagoon into their offering of guest activities. Young children safely play at water's edge and amateurs carefully learn to SUP (stand up paddle board) without the challenge of ocean waves.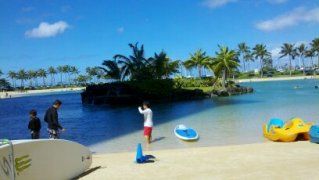 We passed by as roughwater swimmers exited the water and saw Jai Cunningham eagerly awaiting his opportunity to interview participants.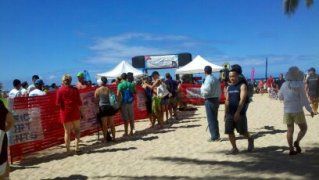 Continuing toward the heart of Waikiki, we were fascinated to see tanks and cannons outside of the Army Museum, Diamond Head of the Hale Koa. Admission is free but, unfortunately, they were closed on Monday.
We shuffled past Trump Tower and the crowd that never seems to let up outside of Eggs 'n Things.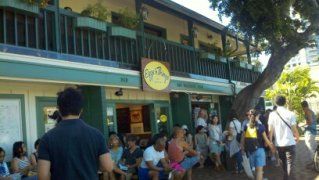 Finally making it to Kalakaua, there were many new businesses…Hard Rock Café has an eye-catching store-front on Beachwalk; Planet Hollywood has been replaced by teddy bears; and more high-end shops line the street.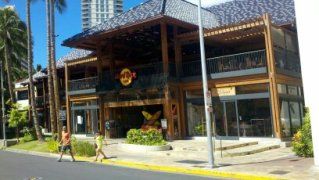 The one constant is that ABC stores still appear on every corner and International Marketplace still offers an array of product in street peddler fashion.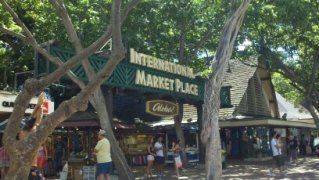 Waikiki Beach was surprisingly sparse and Walls hosts much more than tricky body-boarding. There were several beach volleyball nets set up and all were well-used to say the least.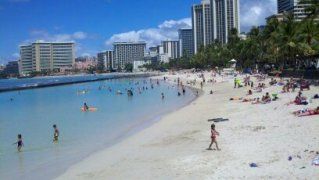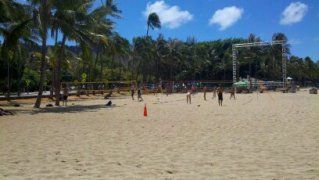 Heading inland, it was a short walk to a yummy acai bowl treat at Diamond Head Cove Health Bar to cool off. Next visit we'll hit Happy Pizza and our favorite scone place, Diamond Head Market and Grill.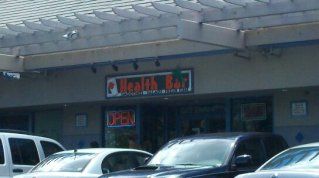 We headed back with a quick stop at the all time must, Rainbows Drive In. Yes, some things never change!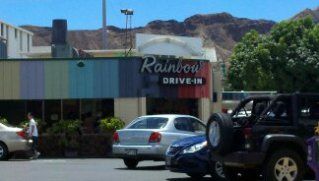 The walk back along Kuhio was rather uneventful. Of course, it could be because my feet were sore and I was dying for a shaved ice.
All in all, it was another fun urban hike. We're looking forward to hitting Kaimuki next.
*** I invite you to visit my website www.lifefitnet.com and participate in a short online survey that should take only 2-3 minutes to complete. No one's personal, individual data is ever shared and the aggregated information is used to Build a Healthy Hawaii and better understand individual needs and preferences related to establishing healthy lifestyle habits. Mahalo for your support!
Lori