OMG! Where have I been all these years?
I've driven and ridden through Nuuanu Pali Drive many times over the decades but only recently have I had a chance to hike Nuuanu, and what a fascinating hike it was.
We began right across the street from the Board of Water Supply, through a maze of bamboo, along a small waterway, which ended with a natural rock feature trickling water in all directions.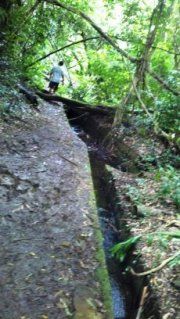 We did an about-face and decided to venture uphill where there appeared to be a clearing in the bamboo. Boy, I'm glad we did! That's where we discovered an ancient Hawaiian heiau called Kaniakapupu. Research indicates the heiau was used by kahuna (priests) skilled in practicing medicine as a healing site (heiau ho'ola) or Luakaha ("place of relaxation").
We wandered a bit off the path and stumbled upon a plant web of sorts. It was so cool!
After soaking in a bit of history, and getting lost in a maze of bamboo and other interesting foliage, we marched out and headed down the road to the Judd Trail. Although it didn't appear as an obvious trail in the drive through (look right below the bridge if headed up Nuuanu Pali Drive), except for numerous cars parked along roadside, there was signage once you clear the barrier, as well as a few directional indicators along the way.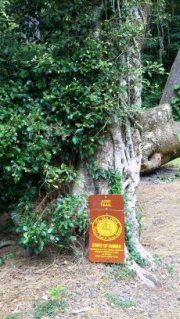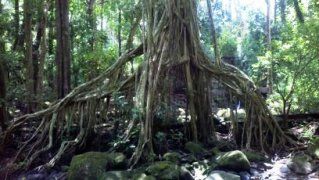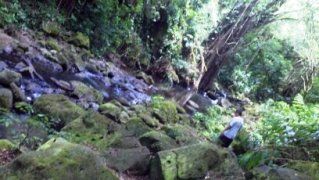 I didn't find the lower hike as intriguing as the upper path we were just on, but it did allow us to walk long various ponds and streams, hop along large boulders, and climb through greenery all about.
It's hard to believe this hike is right in town, except when you look up and realize that you are practically in someone's back yard. Be respectful, there are many beautiful estates in the area whose owners, I'm sure, would appreciate the courtesy.
At any rate, it's a great way to spend a few hours. It's convenient and you never know what you'll discover.
I was pleasantly surprised.
*** I invite you to visit my website www.lifefitnet.com and participate in a short online survey that should take only 2-3 minutes to complete. No one's personal, individual data is ever shared and the aggregated information is used to Build a Healthy Hawaii and better understand individual needs and preferences related to establishing healthy lifestyle habits. Mahalo for your support!
Lori