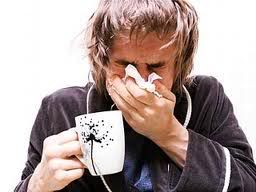 Sure. From time to time, you are bound to suffer from some kind of illness. It may not be that you just came in contact with others who are sick. Give some thought to what YOU have been doing prior to getting sick.
Ask yourself…
• Have I been resting well?
• Am I under greater stress?
• Have I been eating well? (Have you been hydrated? Have you had fresh foods and well-balanced meals?)
• Have I been exercising sufficiently and correctly? (Have you been regularly active?)
Remember, a healthy body can be fairly resistant to illness. Yes, this goes well beyond whether you've been exposed to others at home or at the office who are sick. Think more about YOU. Are YOU in good health?
If you answered "no" to any of the questions above, you could be at increased risk. Of course, sometimes those factors seem out of your control. Life happens and before you know it, you're flat on your back. Your body will tell you when it's reached its limit. Illness is sometimes the unfortunate result of not being attentive to these factors and ignoring the signals that alert you to the body's declining condition and higher risk.
So illness strikes, then what do you do? I am often asked whether or not to keep training when illness strikes. Those with unwavering motivation think they should train through it. Others with cautious avoidance believe they should wait until they are 100% and bounding with energy.
My general rule of thumb is...NO - if contagious, your doctor said "no," fever, headache/migraine, heavy/consistent coughing or congestion, dizziness/nausea, vomiting, or extreme weakness/tiredness. Listen to your body. On the other hand, it's a YES – if you are 'over the hump' and starting to get your energy back, none of the aforementioned "no" factors apply, and you feel like your body needs it. Of course, give some consideration to those around you. If you are coughing, sneezing and have a runny nose, I don't think others would appreciate sharing equipment with you.
Be well.
*** I invite you to visit my website www.lifefitnet.com and participate in a short online survey that should take only 2-3 minutes to complete. No one's personal, individual data is ever shared and the aggregated information is used to Build a Healthy Hawaii and better understand individual needs and preferences related to establishing healthy lifestyle habits. Mahalo for your support!
Lori