The Aiea Loop Trail begins on the Keaiwa Heiau State Recreation Area.  You take Aiea Heights Drive all the way to the top (about 3 miles), and you'll end up in the first parking lot of the recreation area.  I just tried this hike the other day and I made the mistake of parking there, it turns out there are several other parking areas on the way up and the trail begins at the uppermost parking area.  So be sure to park there unless you want a nice uphill warm-up before your hike.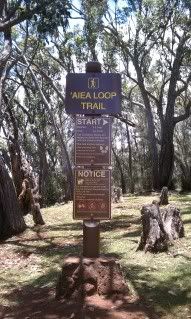 The 4.8 mile trail begins at the top of the recreation area and ends in one of the lower portions of the area.  The hike is rated as easy to moderate.  I found the open terrain and lack of steep climbs to be a great way to just enjoy the sights and sounds.  There were some short muddy areas, as well as some places where you will have to climb over or duck under some logs, but nothing too strenuous.  Moving at a slow-moderate pace, the entire hike should take about 2.5-3 hours.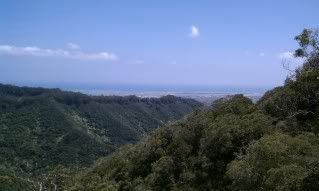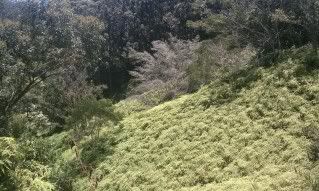 As for the views, throughout the entire hike you'll get great views of the lush Hawaii mountain side, as well as Pearl Harbor.  Majority of the hike is through semi-covered forested areas with lots of openings to see what Halawa Valley has to offer.  A little ways into the hike you'll even come across a park bench that overlooks the Halawa Valley and most of the Waianae mountain range as well.  As you get further along on the trail, you'll actually end up near the H-3 freeway.  Near the end, you'll come across two forks in the path, be sure to take the right side both times. (That's what the hiking guides say.)
The plethora of flora and fauna along the hike was absolutely amazing.  There would be portions of the valley just covered in fern; and as you move along, the types of plants in the area change.  There were even spots with very tall palm trees--which were a bit unexpected.  You'll also notice a variety of birds and other animals that call this mountain side their home (including Jackson chameleons).
Do you see it? Where's Waldo? Ha, ha.
With the relative ease of the trail itself and the beautiful terrain, the Aiea loop trail is a great beginning hike that allows you to get some good physical activity while enjoying the mountain scenery. Happy trailblazing. Casey
*** I invite you to visit my website www.lifefitnet.com and participate in a short online survey that should take only 2-3 minutes to complete. No one's personal, individual data is ever shared and the aggregated information is used to Build a Healthy Hawaii and better understand individual needs and preferences related to establishing healthy lifestyle habits. Mahalo for your support!
Lori