Life has been pretty hectic and I finally had time for a quick escape into the woods. I can't believe after all these years I missed such a convenient hike—right in Makiki.
This is a short and easy hike that's right in town. Just head up Makiki Heights Drive and park outside of the Hawaii Nature Center. You'll get a little warm up trodding from the hiker's parking lot to the start of the trail. It is a well-marked hike that leaves little room for getting lost—unless you are one who likes to create your own path.
Head over the bridge in back of the Center and you will pass a cute little taro patch.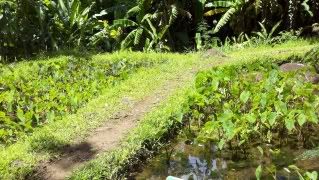 This will lead up a shady rooted path to your first decision-point. It's a loop trail so take your pick. Hmmm. Which way to go?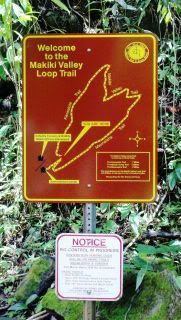 We started on the 'wet side,' taking the Kanealole Trail. At the beginning, foliage along the path was labeled and it felt like we were on a botanical tour. The first eye-catching sight was a cool moss covered wall, just over a bridge.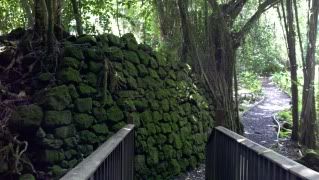 Keep going and enjoy the scenery. Check out the 'tree tunnel.'
Groves of giant bamboo…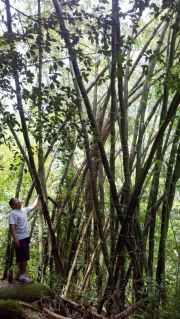 And throughout you can hear the soothing sound of rushing water and birds.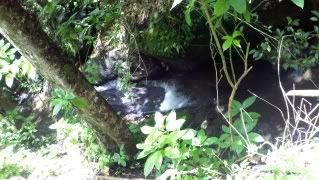 I had to put this pic in. It looked like giant taro and made me think I'd shortly see a dinosaur peaking over the trees.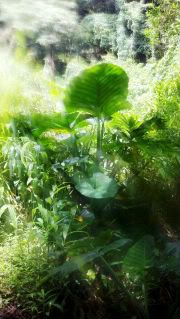 You know you're on the 'wet side' when you see more fern. Beautiful. Oops, then of course there's the mud building up on your shoes.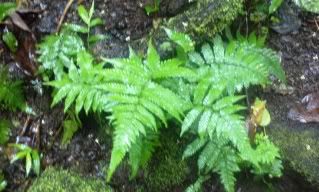 The Makiki Valley Trail transitions to the Maunalaha Trail and you will quickly notice that  it dries out quite a bit. We headed down pathways covered with tree roots, still nicely shaded.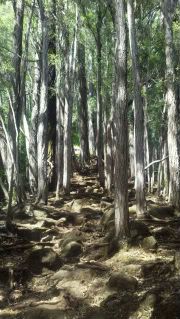 Another patch of young bamboo and we were near the end of our hike. It's a great one to take the kids. It's cool and not very challenging at all. Check it out when you have a little time to spare.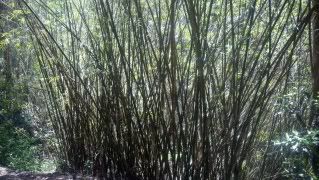 *** I invite you to visit my website www.lifefitnet.com and participate in a short online survey that should take only 2-3 minutes to complete. No one's personal, individual data is ever shared and the aggregated information is used to Build a Healthy Hawaii and better understand individual needs and preferences related to establishing healthy lifestyle habits. Mahalo for your support!
Lori