The Miracle Noodle - Shirataki
February 8th, 2012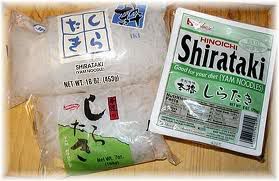 The Miracle Noodle is a "new" product out on the market now that uses an old shirataki noodle recipe as its base.  The only ingredients in these noodles are essentially water and fiber.  They provide great filler for any dish.  By ingesting high amounts of fiber, you help prevent heart disease and diabetes, promote digestive health, and encourage weight loss.  Also, because of the slow digestion of fiber, you also experience feelings of fullness from eating these noodles.  They contain no carbohydrates, fats, or protein; which is important to keep in mind when structuring a meal around these noodles. Here are a couple recipes. Enjoy!
PAD THAI
By: MICRONERDCHICK
2 (8 ounce) packages shirataki noodles
2 chicken breasts
1 tablespoon oil
1 tablespoon minced garlic
1 tablespoon minced ginger
1 tablespoon crushed red pepper flakes (optional)
Sauce:
1 tablespoon soy sauce
1 tablespoon peanut butter
1 tablespoon water
1 tablespoon white vinegar
1 tablespoon brown sugar
Slice the chicken breasts into thin slivers. Drain the Shirataki noodles very well and dry completely.
Add 1 tablespoon oil to pan and heat. Saute' garlic and ginger. Stir in chicken and cook until browned. Stir in noodles until separated and coated.
Separately, combine the soy sauce, peanut butter, water and red pepper flakes. Pour the sauce over noodles and chicken. Add vinegar and brown sugar and toss altogether. Allow the sauce to heat through.
SUKIYAKI
1/4 cup sugar
1/2 cup soy sauce
1/3 cup sake or dry white wine
1 1/2 pounds chicken, sliced very thin
1 pkg Shirataki
3 tablespoons cooking oil
1 large garlic clove, chopped
¼ sweet onion, sliced
½ piece of ginger, sliced
2 bunches green onion, cut diagonally into 1-inch lengths
3/4 cup canned low-sodium chicken broth or homemade stock
1/2 won bok cabbage, cut into 1-inch pieces
2 bamboo shoots, sliced
1/4 pound shiitake mushrooms, sliced
1 block tofu, drained and cut into cubes
Mix together sugar, soy sauce, sake and chicken. Set aside.
Rinse and drain shirataki. Set aside.
Heat oil in a large nonstick frying pan over moderately high heat. Saute' the garlic, then add the onion and saute' as well. Add chicken mixture and heat chicken till cooked through.
Reduce the heat. Add green onion and other ingredients. Heat till veggies soft. Add tofu and shirataki and simmer for 5-10 minutes.
*** I invite you to visit my website www.lifefitnet.com and participate in a short online survey that should take only 2-3 minutes to complete. No one's personal, individual data is ever shared and the aggregated information is used to Build a Healthy Hawaii and better understand individual needs and preferences related to establishing healthy lifestyle habits. Mahalo for your support! 🙂 Lori